Winner HZ Stern 2019


A

matter of continuing to probe ...
On 11 December seventeen talented students were put in the limelight in the HZ Café: ten Honours Programme participants and seven HZ-Stern nominees for the best graduation work. The winner of the HZ-Stern 2019 was Thijs Wassink, who graduated from the Business Administration/MER programme and who is a former participant in the Honours Programme, with Brexit as the exciting topic of his graduation thesis. The jury praised the clarity and topicality of his research. HZ Discovery interviewed Thijs after the festive presentation.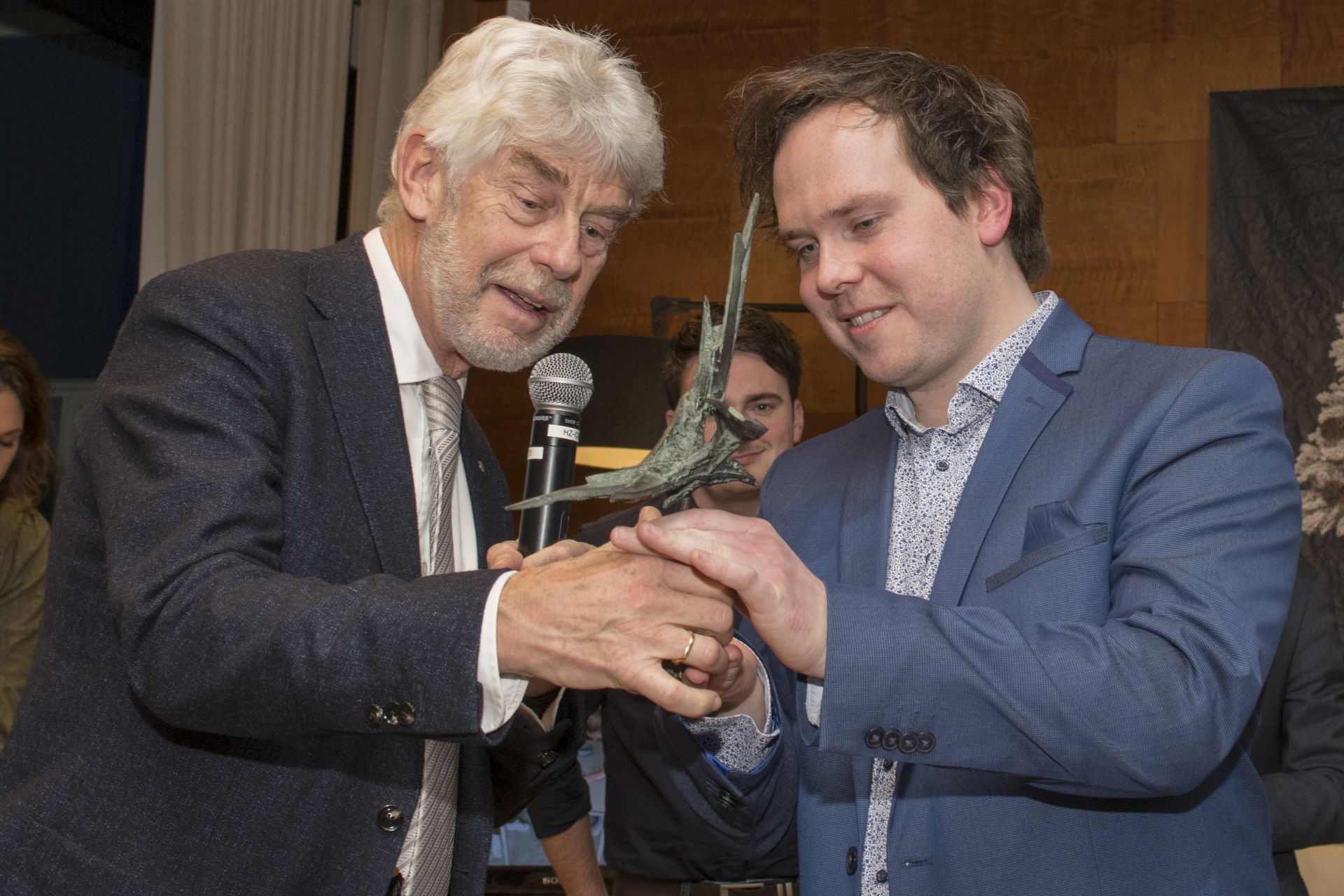 What is the best reaction you have had so far?
"I am still completely surprised, to be honest. The nicest remark was: "Although you used to be late for school regularly, you now seem to have your act together pretty well."
Can you briefly describe to us what your research was about?
"I researched how my internship company (and Dutch companies in general) could best minimise the consequences of Brexit and what steps companies should take to be Brexit-proof on March 29, 2019, April 12, 2019, October 31, 2019, January 31, 2020. Yes, I often had to adjust the date."
Was it a difficult process?
"Certainly, but exciting too! The newest information tended to be outdated a day later. In addition, much of the information I found was not yet officially released. The most difficult thing was to get one step ahead of what was already surfacing. For that I had to find the right respondents. I succeeded be approaching VERY MANY people, in writing, by calling them, or just passing by to collect a lot of knowledge. I was, as it were, half detective and half investigative journalist!"
Were there also some fun things?
"Absolutely! One of the nicest things I experienced was a Brexit meeting in the Ernst Young building in London with executives from large companies. Interesting and with a fantastic view. They told me they had had a great lunch elsewhere and thought it funny to now encounter a Tube-travelling, sandwich-munching Dutch student who wanted to learn more about Brexit."
Why did you choose the preparation for a possible Brexit as your topic?
"The idea originated during the first meeting with my internship company. The company exports many goods to the UK and was worried about the Brexit. In addition, I am always interested in politics, trade and law. I saw in the approaching Brexit a subject in which 'I could indulge', to turn my thesis into a final spectacle and in which I could apply everything I had learnt in recent years. "
It seems Brexit is really going to happen. Do you have any advice for the companies involved?
"Fortunately, the chance of a Brexit with a deal has increased considerably, given the landslide the conservatives made. I have some advice. Start by making the 'Brexit Impact Scan van de Rijksoverheid' and examine the points the scan reveals. This is a good starting point but certainly not enough. Draw up a Brexit clause with your British customers. Above all, do not forget to include the delivery and payment conditions so that it is clear what happens in which scenario. And make the Brexit a collective business problem, so that it does not end up on the desk of one overworked department. This also prevents unilateral insights.
They can also contact me for advice, I have made an email address for this: Thijs.Brexit@outlook.com. I even dream of setting up an internationally operating consultancy in the future. The future looks bright!
Finally, do you have a tip for students who would like to win this prize next year?
"In addition to perseverance, you should never settle for the first, second or third answer. Embark on a real search and find the questions behind the answers and try to decipher them so that you will find real solutions and real insights. If you adopt this attitude when working on your graduation thesis, it will go splendidly!"
Was dat lastig?
"Zeker en spannend ook! De meest recente informatie kon een dag later alweer achterhaald zijn. Daarnaast was veel informatie die ik vond ook nog niet officieel uitgebracht. Het moeilijkste was om een stap verder te komen dan wat er aan de oppervlakte te vinden was. Daarvoor moest ik de juiste respondenten zien te vinden. Dat is gelukt door vooral HEEL VEEL mensen aan te schrijven, te bellen of gewoon langs te gaan om kennis te vergaren. Ik was als het ware half rechercheur en half een onderzoeksjournalist!"
---
Supporting material:
Link to Thijs's thesis: