Sam de Waterman
How drinking behaviour can help prevent obesity
Dylan Gillissen and Sybren Slimmen


Lectorate Healthy Region
Sam de Waterman is a method that helps primary schools to teach children in the kindergarten class to adopt a healthier lifestyle. Their drinking behaviour is central to this health intervention. The intention is that children choose water instead of sugar-sweetened beverages, to prevent being overweight in the future. Sam de Waterman consists of a reading book, songs, activities and a water bottle for every child. The activities make the children aware of the importance of drinking water and stimulate healthy drinking behaviour in a playful way. Because they are structurally engaged in drinking water and its benefits, the children develop a positive attitude towards drinking water.
Overweight in children
Children are increasingly confronted with overweight¹. In 2018, 11.7% of children aged 4 to 17 were overweight. Of these, 9% were moderately overweight and 2.7% seriously overweight. Childhood obesity can be a precursor to serious obesity in later life². It also increases the chance of developing cardiovascular disease, diabetes and certain forms of cancer. In addition, young overweight children have a lower life expectancy³.
Eating and drinking habits developed in childhood can lead to obesity⁴. Consuming larger and larger portions, changes in 'snacking habits', various diets and drinking many sugar-sweetened beverages are examples of this. Four- and five-year olds regularly drink sugar-sweetened beverages, often several (large) glasses per day⁵. De Ruyter (2012)⁶ conducted research into children and their drinking behaviours. It showed that children who regularly drank sugar-sweetened beverages had become more than a kilo heavier during the study than those who did not. Drinking sugar-sweetened beverages therefore increases the risk of developing overweight.
Replacing the sugar-sweetened beverage with water offers a solution. Water contains no calories; no sugar and it is of excellent quality in the Netherlands. Research shows⁷ that drinking water instead of sugar-sweetened beverages for one year reduces the risk of developing overweight by 31%. The goal of Sam de Waterman is to make the children in the kindergarten class of primary schools aware of this, so that they will ultimately voluntarily choose water for themselves.
Steering towards behavioural change
This age group was chosen because children of this age (4 to 6 years) have the greatest chance of learning new habits that they will keep for the rest of their lives. Sam de Waterman tries to achieve behavioural change in a playful way. The method therefore focuses on several behavioural determinants. First, the attitude of the children towards drinking water is positively influenced by the songs and stories in which Sam plays the lead. Secondly, attention is paid to raising awareness among children that water is healthier than drinks with sugar. That is the message that is being conveyed. Thirdly, the social environment and social norm are addressed. The children must start to think of drinking water as 'nice' and 'cool'⁸. By repeating a lot, behavioural change will take place; as a result, children are more likely to opt for water than for drinks with a lot of sugar, not only at school, but also at home.
The research
In the period from January to June 2019, eleven Zeeland primary schools participated in the project, in which 515 children were involved. The children received a water bottle with their name on it, and once a week a moment was chosen on which the children performed the associated activities. Those activities were supervised by nursing students from the HZ University of Applied Sciences, who participated in the minor Professional in the gezonde regio (Professional in the healthy region). During this minor, the students learn to put health interventions such as Sam de Waterman into practice. In collaboration with GGD Zeeland, HZ University of Applied Sciences has conducted research into the drinking behaviour of children at the participating schools.
Tally mark lists were used to measure the children's drinking behaviour. The students kept track of what the children drank during their breaks on three occasions. A zero measurement was carried out beforehand, an intermediate measurement halfway through the project and a final measurement after the end of the project. A distinction was made between water, sugar-sweetened beverages and dairy drinks. In addition to tallying, the children's behaviour was observed, and the children were questioned about the drinks that they brought with them to school.
The teacher's attitude
Research shows⁹ (Gillissen, 2019) that the attitude of teachers towards healthy behaviour is crucial for the ultimate effectiveness of the project. When a teacher is concerned with his or her own health and is well prepared, a positive attitude towards the project is created, which makes it easier and more convincing for the teacher to convey the message. The results at the schools where the teacher had a positive attitude towards his/her health are better than at schools where the teachers considered his/her own health less important.
For the results: see infographic.
Referenties:
[1] Bemelmans, W., Visscher, T., Verschuren, W., & Schuit, A. (2004). Toekomstige ontwikkelingen in overgewicht - Inschatting effecten op de volksgezondheid. Bilthoven: RIVM.
[2] Volksgezondheid en Zorg. (2019, maart 19). Overgewicht→Cijfers & Context→Huidige situatie. Opgehaald van Volksgezondheid en Zorg: https://www.volksgezondheidenzorg.info/onderwerp/overgewicht/cijfers-context/huidige-situatie#node-overgewicht-kinderen.
[3] WHO. (2018). Obesity and overweight. Genève: WHO
[4] Hamid, F., Islam, R., & Ray, P. (2013). Childhood Obesity-An Emerging Problem: A Review Article. Bangladesh Journal of Child Health.
[5] De Boer, M., Scharf, R., & Demmer, R. (2013). Sugar-sweetened beverages and weight gain in 2-to-5-year-old children. Pediatrics.
[6] De Ruyter, J., Olthof, M., Seidell, J., & Katan, M. (2012). A trial of sugar-free or sugar-sweetened beverage and body weight in children. New England Journal of Medicine.
[7] Muckelbauer, R., Libuda, L., Clausen, K., Toschke, A., Reinehr, T., & Kersting, M. (2009). Promotion and provision of drinking water in schools for overweight prevention: randomized, controlled cluster trial. Pediatrics.
[8] Verschuure, A. (2015). Sam de Waterman. A qualitative study about the experiences and views of teachers regarding the project 'Sam de Waterman'. Amsterdam: Vrije Universiteit Amsterdam
[9] Gillissen, D. (2019). Goed voorbeeld doet volgen.Vlissingen: HZ University of Applied Sciences.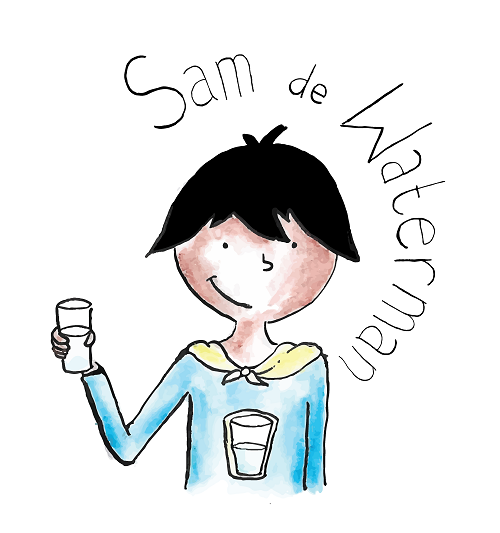 The children must start to think of drinking water as 'nice' and 'cool'